The classic among the systems. The elegant profiles in the S 8000 IQ series are optically convincing with their clear, straightforward design and soft contours. The construction depth of 74mm provides the right prerequisite for making large windows with a high structural integrity. Profiles from the S 8000 IQ system can have either four or five chambers for larger steel stiffeners and more stability, or six or seven chambers for outstanding thermal insulation to reduce CO2 emissions.As with all GEALAN rebate-seal systems, the smooth rebate has no seams where dirt can collect, making it easy to clean the windows there.

GEALAN profile is a highly innovative window and door system solution designed with special attention being given to thermal performance and aesthetics. Exquisite rounded contours to the framing, casement and glazing bead sections ensure outstanding appearance across an almost endless range of window and door styles, combined with 'best in class' performance criteria. 74 mm deep 7 chamber profiles achieve very low 'U' values and can considerably enhance the energy performance of the building into which they are Installed. Double seals ensure absolutely outstanding weatherproofing while also providing a 'dry chamber' centre section in which the operating hardware functions, thus ensuring an extended operational lifecycle.Profile structure and depth of 74 mm allow for significant improvement of parameters of thermal and acoustic insulation (1,1 W/m2K).Delicate rounded frame, sash and glazing bead provide the ability to create windows that meet not only all the functional requirements but also to meet the most demanding tastes.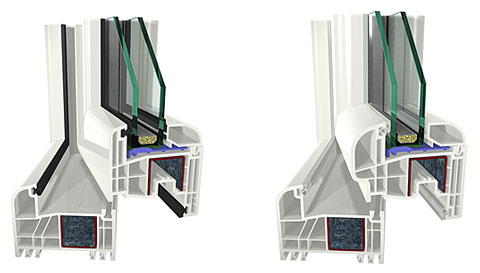 All our windows and doors are glazed with Low E energy saving glass. This means more heat is moving into the house than out through the windows. This invisible metal coating inside the glass reflects the heat back into the room.We also us Argon gas in all our units, which slows heat transmission through the window. All our units are sealed using warm edge technology spacer bar. By replacing the old style aluminum bar we reduce the heat loss at the edge of the sealed unit. All glass areas in doors, sidelights and areas below 800mm will include safety glass to comply with safety regulations.
FACTS :
Construction depth 74mm
Seven chamber design
Excellent thermal insulation
Very good stability
Rebate seal system
Easy to clean
THE ADVANTAGES OF S 8000 IQ :
Good to outstanding thermal and noise insulation thanks to special arrangement of chambers and wide construction depth
Very good structural stability thanks to large steel stiffeners and a wide construction depth
Easy to clean thanks to generous proportions in the rebate
Classic, timeless appearance thanks to a modern, straightforward
High Security
Excellent technical characteristics and unique style of GEALAN Seven Chamber profile, which earn money for you, 30% on lower heating bills.
WIDE RANGE OF COLOURS :
SOME OF OUR PROJECTS :